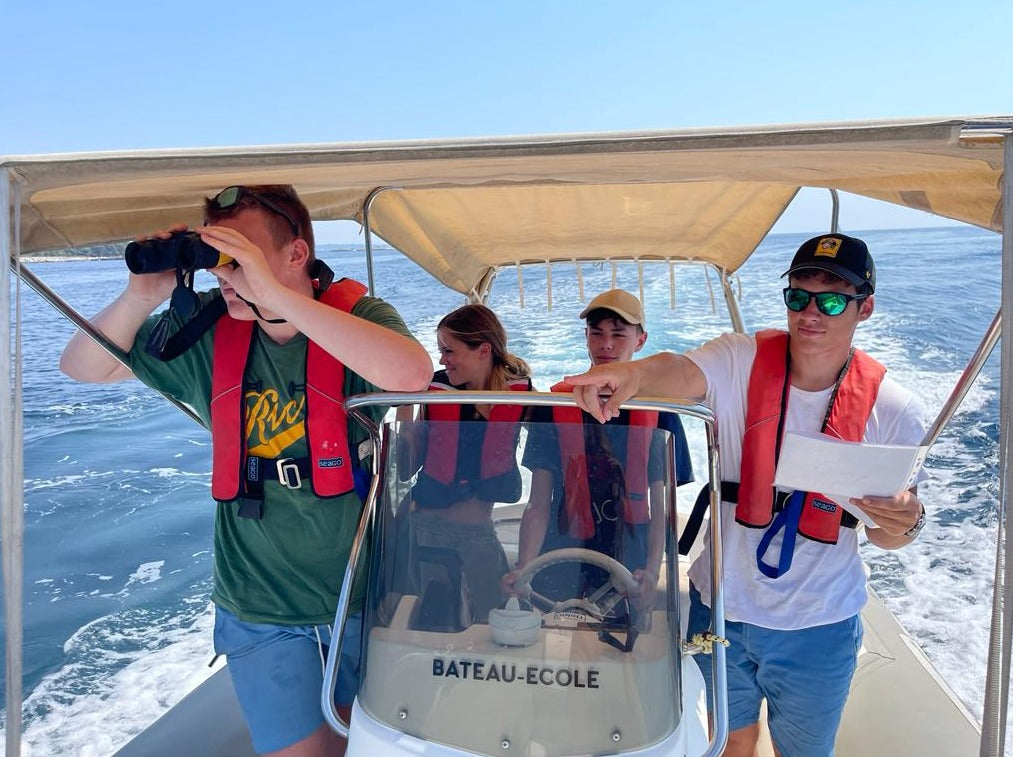 Join us this summer for a fun week of learning at sea and get introduced to the yachting industry.
You will learn how to drive a boat and practice on a 6.5-meter Capelli, ride jet ski, gain essential first aid skills, get familiar with basic knots and splicing, and finish the week by snorkeling in the crystal blue water of the Mediterranean Sea.
For 16 - 19 years old. 
 The Youth Sea School is designed for youngsters aged between 16 and 19 years old with the goal to introduce them to the activities at sea, equip with watercraft handling skills and teach how to enjoy the maritime life safely. Every day of the Youth Sea School is filled with learning – from driving a tender and jet ski to performing CPR, putting bandages and administering first aid. Apart from practical knowledge the students will have lots of fun swimming, snorkeling, and exploring the nearby islands of Cannes. The hands-on training delivered by our outstanding instructors Sammi and Ged may become a first step for the students to a career or a gap year on superyachts.
Age: 16-19 years old 
Location: Golfe-Juan, the South of France
Address: Port Azur IV, 405 Chemin du Gaz - 06220 Golfe Juan 
Time: 10.00 - 17.00 
What to bring: packed lunch, water, sunscreen, two passport-size pictures for RYA licenses  
Monday: RYA Powerboat Level 2 Day 1
Tuesday: RYA Powerboat Level 2 Day 2
Wednesday: RYA Jet Ski (PWC) License 
Thursday: MCA Elementary First Aid 
Friday: Introduction to Knots and Splicing in the morning and Snorkelling off the Cannes Islands in the afternoon
The students will finish their training week with 2 RYA licenses and an MCA Elementary First Aid certificate. 
RYA Trainer Sammi
Sammi is a mom of three and practically grew up on a boat along with her siblings. She loves spending time at sea and enjoys all kinds of watersports – jet ski, tender, surfing, snorkeling, wakeboarding etc. Sammi is a certified RYA instructor and delivers Powerboat Level 2 and PWC/Jet Ski License courses. She's also a whiz with ropes, splices, and knots! You can read more about Sammi here.
STCW Trainer Ged
All students love Ged, and Ged always has a nice story to share and teach through! Ged worked with the Royal Navy, traveled to Canada, engaged into social work with kids, and spent 9 years fighting fires. Despite his extensive experience, he is very humble, and he gets along very well with both greenies and seasoned seafarers. You can read more about Ged here.
All our courses are conducted in English. A sufficient level of understanding and speaking is required in order to successfully complete the course. Contact us if you have any questions.
Before booking the course, please make sure you read the course delivery, deposit and cancellation policy.