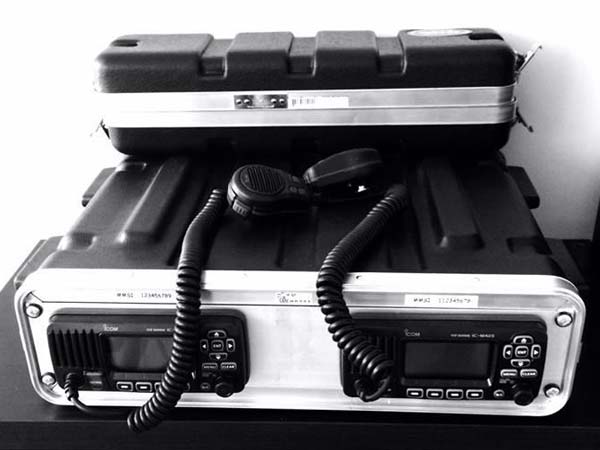 VHF Marine Radio Short Range Certificate
The RYA VHF marine radio course is designed for seafarers to understand how to use this important safety equipment. VHF can be used to send distress messages, warn vessels of potential hazards,  or receive safety information such as navigational warnings and weather forecast. Short Range Certificate (SCR) allows its holders legally operate VHF marine radios.
Online course available all year. 
Place: Online & Golfe-Juan
Pre-requisites: None
Duration: 5 hours
Price: 170 euros 
Additional fee: 70 GBP Exam fee payable directly to the RYA
Upon completion of the online part, you will receive a Certificate of Completion which will be used to schedule your in-person assessment. The assessment results are then mailed by us to the Royal Yachting Association which takes up to 21 days to issue your VHF license. The license is mailed to your address directly by the RYA. If you need your license urgently, you can use Fast Track option for an extra fee.
The exam fee is payable directly to the RYA. Please, click here for the payment options.
Our VHF radio online course is very user-friendly and can be completed in about five hours. The course content includes:
Types of equipment 
Basics of radio operation
Rules and regulations 
VHF channels
Voice procedures: routine, distress, urgency and safety calls
Global Maritime Distress and Safety System (GMDSS)
Digital Selective Calling (DSC)
After working through the training modules, students complete a pre-exam check and take a practical exam at Seascope France training center.
VHF Radio Short Range Certificate is a pre-requisite for many RYA training courses such as RYA Yachtmaster Offshore Practical Preparation or RYA Yachtmaster Offshore Package. This course is also highly recommended for future deckhands.  
Online course available all year 
All our courses are conducted in English. A sufficient level of understanding and speaking is required in order to successfully complete the course. Contact us if you have any questions.
Before booking the course, please make sure you read the course delivery, deposit and cancellation policy.