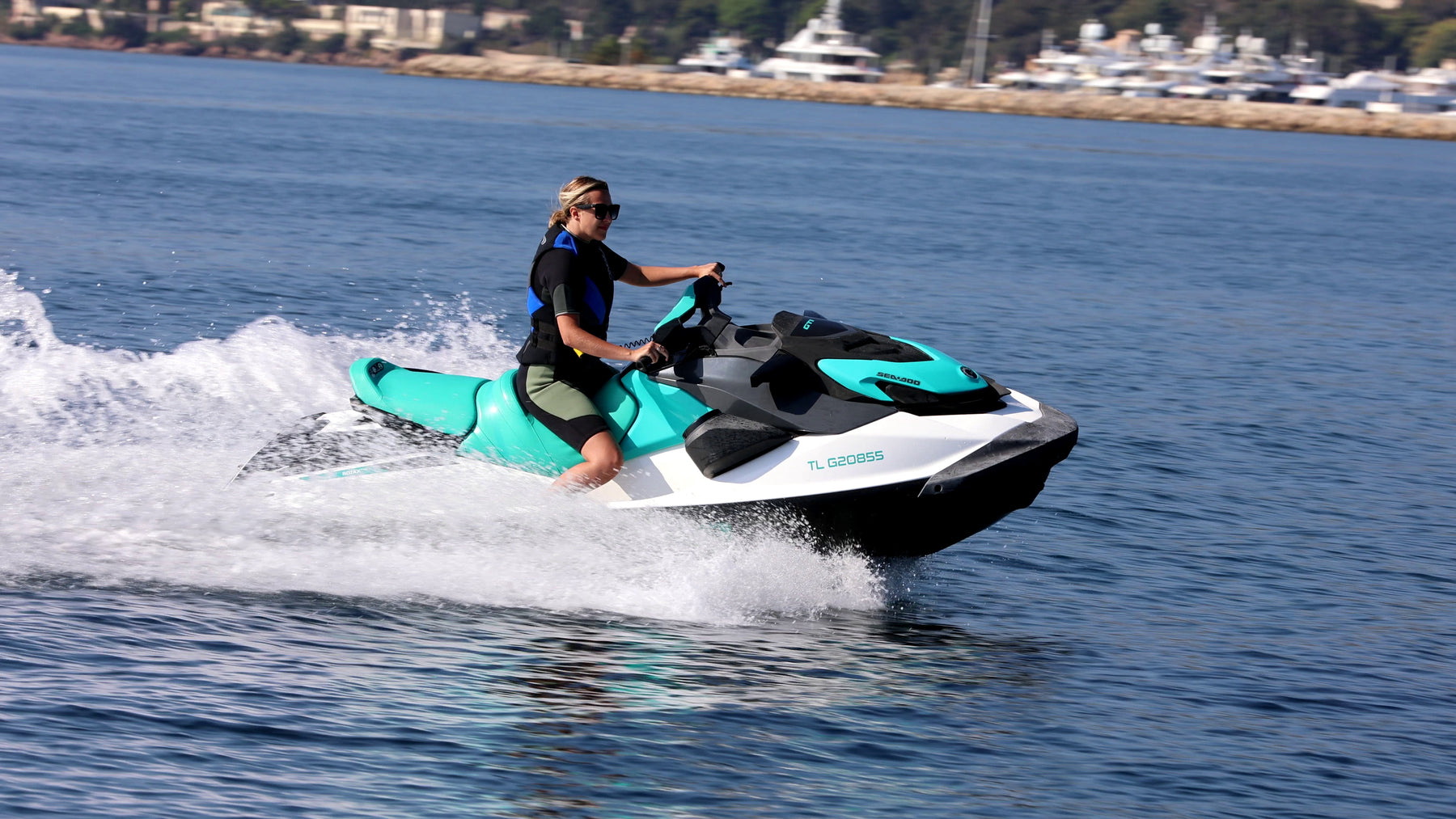 Why Get a Crew Member Trained as a PW Instructor?
So that you can turn your yacht into an RYA Training Center and get your guests trained. Not just for the fun and safety, but to comply with the maritime laws. 
Jet skiing is perhaps the most popular activity for guests on superyachts. High speed, splashing water, and the feeling of freedom… But with the thrill comes legal responsibility: to drive a jet ski, one must hold a valid license. This is one of the reasons why students who train with Seascope France to become a deckhand or a stew opt for Jet Ski and Tender packs. With the proper licenses, they can handle these machines safely and legally. Now, what about the guests on board?
In response to the stricter requirements of operating a jet ski, especially in the Mediterranean Sea, the Royal Yachting Association (RYA) launched its Introduction to Personal Watercraft Safety course. This course was designed specifically for super- and mega yachts registered as recognized RYA training centers to allow their guests, owners and crew, if needed, to be issued with temporary PWC licenses.  
To become a registered Training Center, a yacht will be required to apply through the Royal Yachting Association and complete relevant procedures. You can receive more information about the RYA registration by contacting Seascope France.
Once the process is underway, the boat must make sure that they have at least one qualified Personal Watercraft Instructor onboard before they get inspected by RYA. This qualified Instructor will deliver the Introduction to PW Safety course, which is essentially a Jet Ski License course and allows the guests on board to enjoy their rides safely and lawfully.
Seascope France has recently added to its variety of trainings PWI/Jet Ski Instructor course to meet the demand of superyachts for qualified staff. To be eligible for this course, candidates must be at least 18 years old, hold valid Elementary First Aid and RYA Personal Watercraft Proficiency certificates, and have a membership with RYA. Two years of experience driving personal watercraft is required and can be proved through proficiency in the usage of a jet ski and testimonials from previous employers, for example. If you are not sure about the experience requirement, you can contact Seascope France for more information and assistance.
As a yacht crew training center located in Antibes, the South of France, we keep close attention to the developments in the yachting industry here. One particular jet ski accident that happened in 2014 alerted the French authorities and made them tighten the security and safety on the sea. Today, crew and guests found in the breach of rules and involved in accidents while using a tender or a jet ski might cost the yacht up to 30,000 euros in fines and result in banning the captain from navigation in the French waters.
For superyachts operating commercially in the Mediterranean, it is really worth considering training a member of the crew with this jet ski instructor course to be in compliance with law!