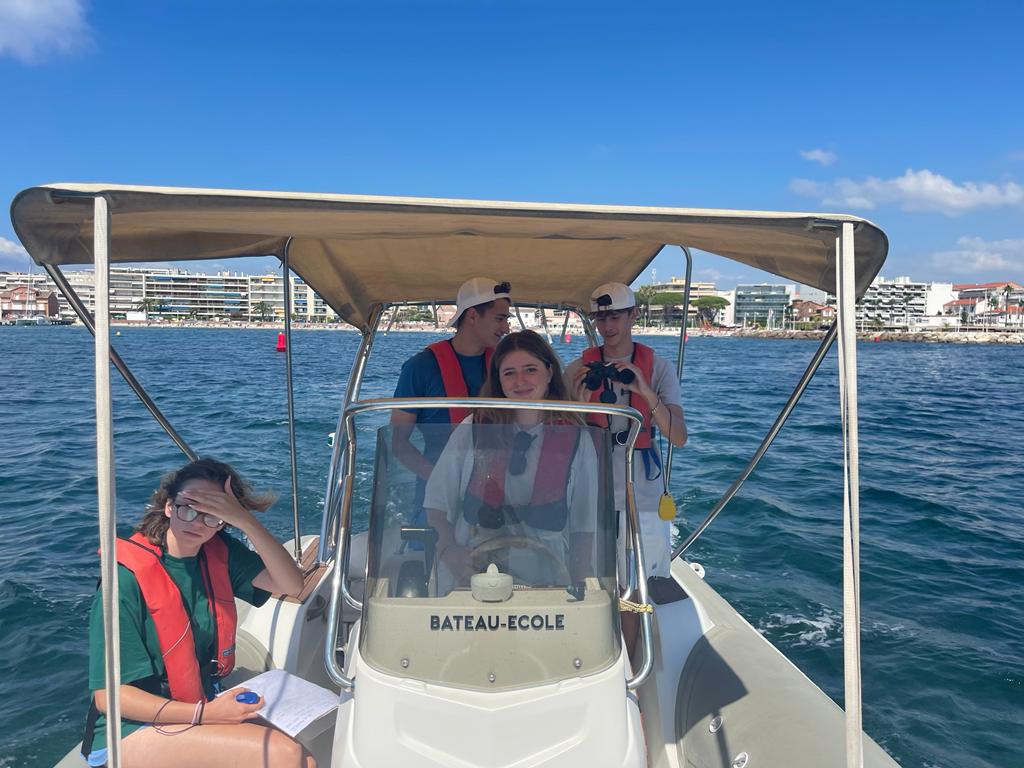 Summer With Teens in Antibes
The South of France is a perfect blend of beautiful coastal towns, stunning beaches, rich history, delicious food, and exciting activities. With so much to offer, vacation by the Mediterranean Sea can be unforgettable, and especially for teens who love exploring the big outdoors.
This year, Seascope France has put its training experience and resources to create a week of learning and fun on the water for 16–19-year-olds – the Youth Sea School. The school is 5 days of getting new skills and certificates while enjoying the sea:
Day 1 & Day 2: RYA Powerboat Level 2 course
The course covers such topics as boat handling, navigation, safety procedures, and basic maintenance. It provides teens with the necessary knowledge and skills to drive and handle small (up to 9 meters) boats safely. The students will practice a lot and walk away with an RYA Powerboat Level 2 license, a recognized certification for operating tenders.
Day 3: RYA PWC/ Jet Ski course
Anyone who's new to jet ski should remember about potential dangers of this high-speed water toy. Riding jet ski is fun, but it needs to be done safely, and this is the goal of this course. Day 3 will bring another recognized RYA license enabling to drive personal watercraft legally.
Day 4: MCA Elementary First Aid course
First aid skills can empower teens to respond effectively in emergency situations. The course covers such important issues as basic CPR (Cardiopulmonary Resuscitation), clearing blocked airways, cleaning and dressing minor wounds, such as cuts and scrapes, proper application of direct pressure to control bleeding, immediate steps to take when someone sustains a burn or scald etc. By the end of the day, the students will walk away with an MCA-approved STCW Elementary First Aid certificate which is valid indefinitely.
 Day 5: Friday is a funday!
In the first half of the day, in a fun and practical way our instructors will introduce students to a variety of basic knot-tying skills. These skills are crucial to ensure safety on water.  The ability to tie knots efficiently and under pressure can be critical in ensuring the survival of the crew and passengers.
In the afternoon, the young seafarers will head to Lérins Islands which offer fantastic snorkeling experience due to crystal-clear waters and diverse marine life around them. Calm, shallow waters of the islands allow to explore the rocky areas along the coast and discover colorful fish, sea urchins, and sometimes even small octopuses.
 The Youth Sea School aims to become not only unforgettable, but also highly useful experience for teens. The skills and knowledge acquired throughout the 5-day training will last for life, and if at certain point the youngsters decide to join yachting industry, all they will need to do is to complete 3 modules of STCW Basic Safety training.
If you are currently planning to visit the South of France and in search of accommodation, have a look at our Practical Information section to discover a selection of apartments in Antibes and around. We remain at your disposal and can be contacted by email, phone, or through contact form.