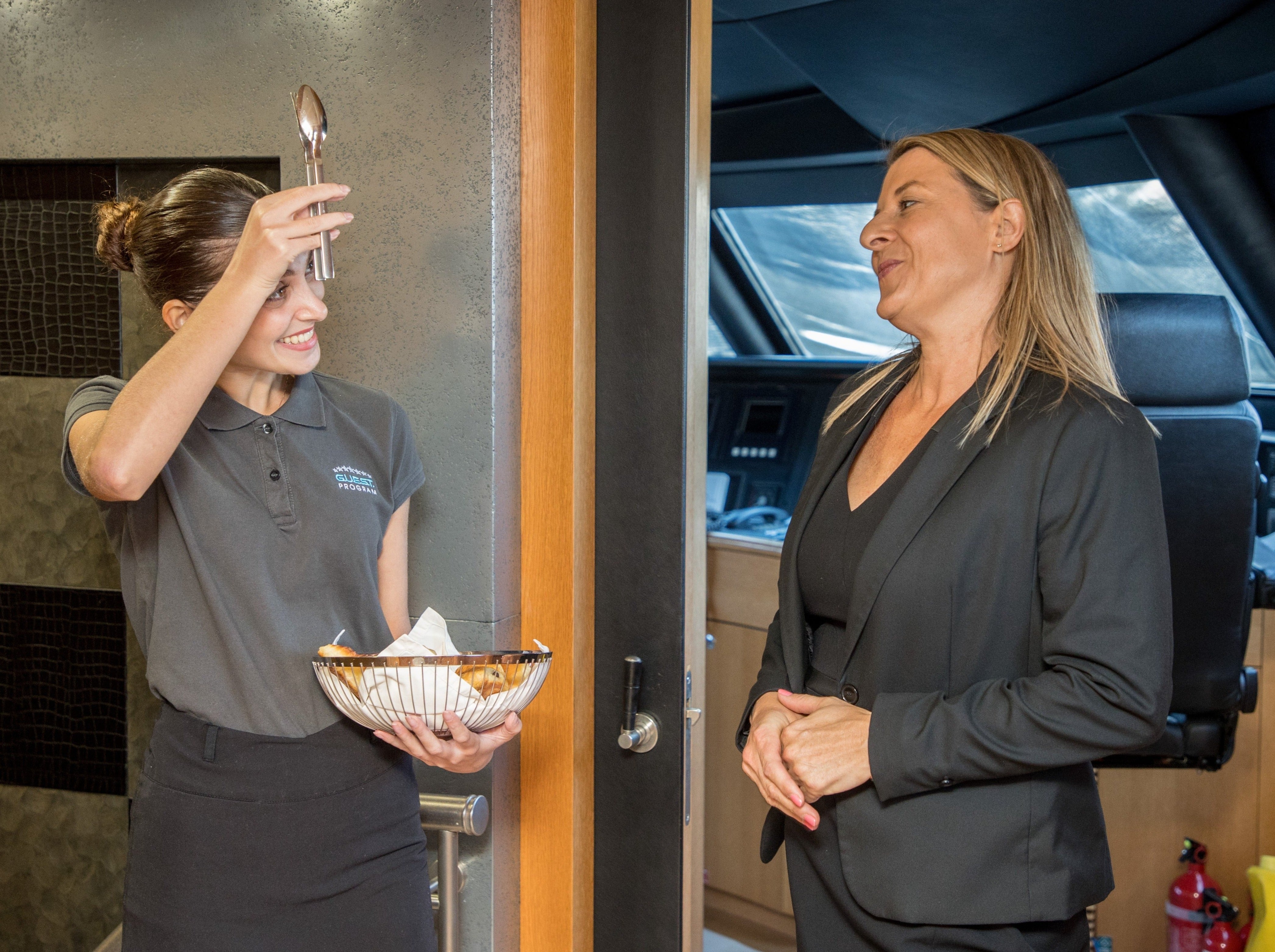 2 essential courses to get started on yachts as a steward/stewardess: STCW Basic Safety Training and G.U.E.S.T Introduction to Interior Training. STCW BST is a mandatory training for all seafarers, and G.U.E.S.T Interior program will equip you with the skills and knowledge to be able to offer excellent service on yachts. 
STCW Basic Safety Training
Place: Antibes
Duration: 5.5 days
G.U.E.S.T Introduction to Interior Training
Place: Antibes / Golfe Juan
Duration: 5 days
STCW Basic Safety Training
STCW Basic Safety Training is a 5-day course comprised of five modules:
Personal Safety & Social Responsibility: understanding of on-board working conditions, safety procedures and accident prevention.
Personal Survival Techniques: survival at sea in the event of an emergency, life-raft familiarisation.
Elementary First Aid: basic first aid training & resuscitation.
Fire Prevention & Fire Fighting: fire causes, prevention, extinguishing techniques.
Proficiency in Security Awareness: importance of on-board security and how to recognise and react in the event of security threats.
The course provides students with an important introduction to working at sea and will equip them with necessary skills and knowledge to work safely onboard a seagoing vessel. Once students obtain STCW Basic Safety Training, they meet the minimum mandatory requirement for working on superyachts and commercial vessels over 24 metres in length.
The STCW (Standards of Training, Certification and Watch keeping) courses are run in accordance with section A-VI/1 of the STCW Code including the Manila amendments introduced in 2010.                                                                                  
G.U.E.S.T Introduction to Interior Training
The G.U.E.S.T program is accredited by the International Association of Maritime Institutions (IAMI) and is the only internationally accredited maritime hospitality program available to crew working in the luxury superyacht sector. Covered modules include: 
Yachting and yachting life: demographics of the industry, professional search for a position, life at sea, health and wellbeing, personal presentation, communication etc.
Laundry, fabrics and furnishings, safety: professional laundry practices and procedures, handling personal affairs, hanging, storing and placing garments etc.
Food and beverage service: standards of presentation, serving food and beverages on yachts, mis en place in service areas, food safery, dierary requirements etc. 
Wine, bartending and mixology: wine basics, professional wine service, wine storage onboard a yacht, main spirits and classic service for spirits, tools and methods of cocktail mixing. 
Floristry
Our trainings and packages do not include accommodation. However, we work closely with a number of crew houses in Antibes that offer accommodation. Please, check the list here.
All our courses are conducted in English. A sufficient level of understanding and speaking is required in order to successfully complete the course. Contact us if you have any questions.
Before booking the course, please make sure you read the course delivery, deposit and cancellation policy.