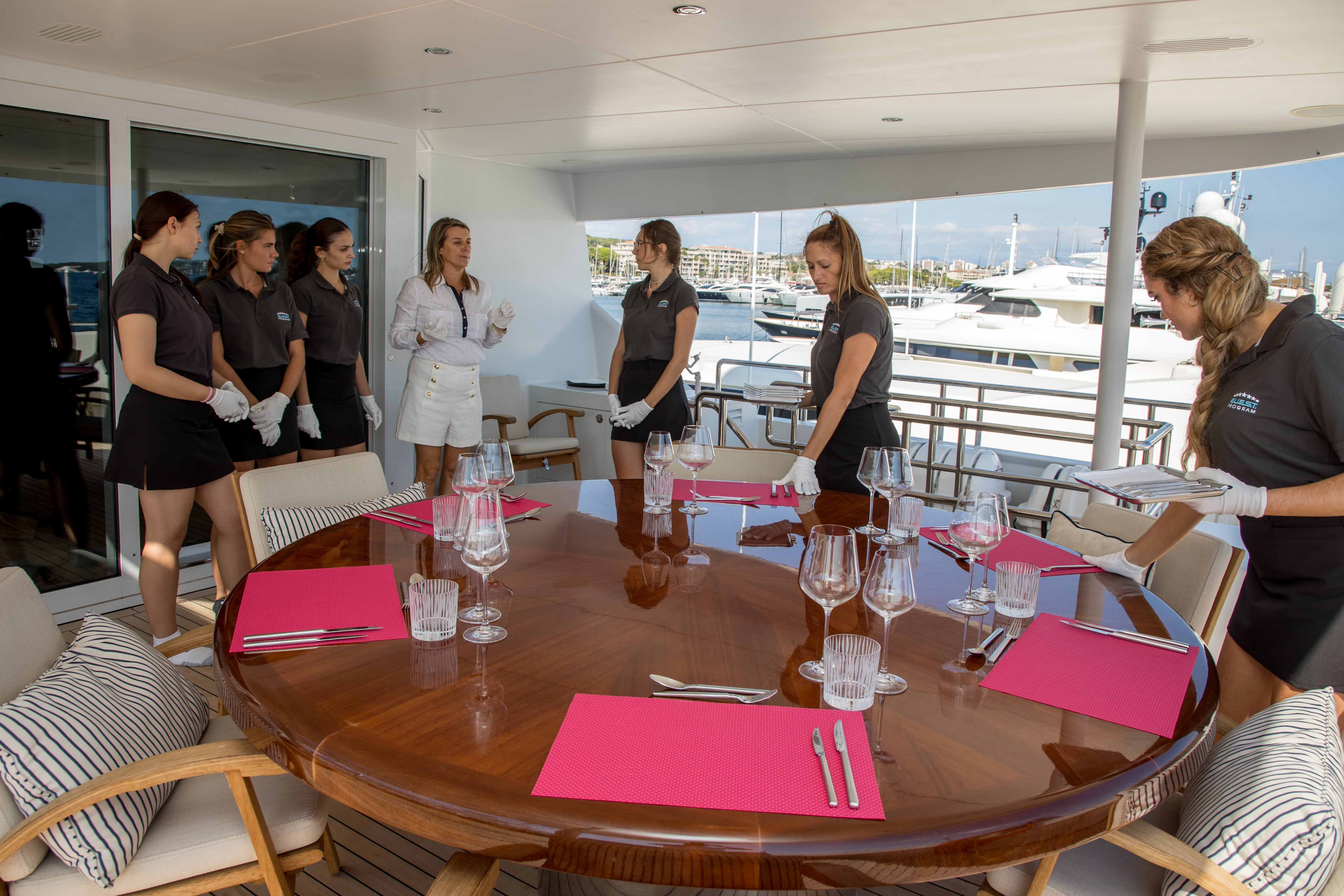 Yacht Steward(ess) Training
Our wide selection of crew training now includes the G.U.E.S.T Interior training program, the standard in Superyacht training.

If you need a boost to start your superyacht crew career or want to brush up on your yacht interiors skills, then this course is perfect for you.

Through our live practice sessions held on board our fleet of superyachts we can offer you a truly unique training experience.
INTRODUCTION TO YACHTING & YACHTING LIFE
demographics of the yachting industry

professional search for a position within the industry

life at sea and maintaining health and wellbeing

main departments of a yacht and the hierarchy & chain of command

standards of personal presentation

standards of attention to detail required onboard a yacht

importance of communication
BASIC HOUSEKEEPING & LAUNDRY SERVICES
professional presentation & eye for detail in all guest areas

clean & detail guest cabins & bathrooms

clean & maintain crew areas

clean & maintain the fabrics, surfaces, & finishing's found in a typical luxury yacht

professional laundry practices & procedures

maintain & follow laundry duties efficiently

respectfully & discreetly handle guest personal items

pack & unpack guest luggage

correctly hang, store & place guest garments & personal items
BASIC FOOD AND BEVERAGE SERVICES
the principles of guest service

high standards of presentation and etiquette expected

different food service techniques

basics of how to carry out food and beverage service on board a yacht

basics of how to prepare mise en place for the service areas onboard

practices promoting Food Safety

understanding and recognition of special Dietary Requirement 
BASIC WINE, BARTENDING AND MIXOLOGY 
factual knowledge of the basics of the world of wine

basics of regions and grapes of the world relevant to the yachting industry

basic principles of professional wine service

correct wine storage onboard a yacht

basic understanding of how to identify the main spirits and recognize the classic service for spirits

basic understanding of how to recognise and use the required tools for cocktail making

lbasic methods used to mix cocktails
Place: Antibes / Golfe Juan
Price: 1100 Euros
Duration: 5 days
A 5-day comprehensive G.U.E.S.T approved Interior Introduction course for all crew working, or wanting to work within the superyacht sector. Our course includes:

Complete understanding of yachting life
Laundry, fabrics and furnishings, safety
Introduction to food service
Introduction to wine, bartending and mixology
The G.U.E.S.T program is accredited by the International Association of Maritime Institutions (IAMI) and is the only internationally accredited maritime hospitality program available to crew working in the luxury superyacht sector.
Housekeeping
Table settings
Personal presentation
Laundry
Wine and mixology
Communication and etiquette
Our trainings and packages do not include accommodation. However, we work closely with a number of crew houses in Antibes that offer accommodation. Please, check the list here.
All our courses are conducted in English. A sufficient level of understanding and speaking is required in order to successfully complete the course. Contact us if you have any questions.
Before booking the course, please make sure you read the course delivery, deposit and cancellation policy.